Quick & Easy Ways to Get Your Home Ready for Guests
There are some affiliate links below, but they are all products I highly recommend. For more info, view my disclosure here.
No matter how tidy you normally keep your house, there's bound to be a moment of "oh crap!" when you find out guests will be over shortly.
When it's your BFF coming, there's no need to dash around frantically. But what if family or an acquaintance calls that they'll be stopping by in an hour or two?
First off, don't panic!
Take a deep breath! Follow these quick steps to get your house in perfectly presentable condition so you can relax and enjoy your guests.
Empty The Sink
Having dirty dishes in the sink…well, stinks! It's an eyesore and adds yucky food smells into the air. When you find out you're having guests stop over shortly, make this the first spot you address.
Toss those dirty dishes into the dishwasher. If your washer is quiet and you have time, you can run it right away, or start the cleaning cycle once company has left.
Have time to do a deep clean on your kitchen sink? Here's how to quickly clean and sanitize your sink!
Clean The Entryway Where Guests Come In
This is the very first place your company will see, so give it a good bit of attention. Sweep the front porch or entryway.
Dust away the cobwebs with a broom. Wipe muddy handprints (or nose & pawprints!) off glass windows.
Pick up shoes left at the door and hang up jackets. Overall, just make sure that first impression of your home is a pleasant one!
Prepare Snacks and Drinks
You want to have something for your guest to sip and nibble on, so take a quick inventory of your options.
If the cabinets are looking truly bare, send someone on a grocery store run for some essentials.
If you live in an area where groceries can be delivered to your home, consider placing a quick order for sparkling water, sodas, crackers and cheese, and fruit and veggies.
That will give a good, healthy boost to your gathering!
A charcuterie board is fairly simple to assemble and makes a great presentation to company without being too messy to snack on.
If all else fails, pop open a bag of tortilla chips and salsa for easy snacking.
Clean Flat Surfaces
Flat surfaces are magnets for clutter, aren't they? If your counters are covered with miscellaneous objects, swipe that countertop clutter into a hidden area to be dealt with later.
Remember, you're only worrying about what company can see, so don't stress about hidden messes!
Don't forget, the floor is the largest flat surface in any home. Scoop up the toys and place them in a designated corner or playroom. Run the vacuum quickly in the public areas after picking up floor clutter.
Clean The Guest Bathroom
There's nothing worse than a grody bathroom, so make this a high priority to clean as soon as possible.
Add cleaner to the toilet bowl and give it a quick swipe to scrub it clean. Then wipe down the seat.
Use an antibacterial wipe to clean and sanitize the sink and counter, and make sure there is hand soap available.
Wipe the mirror down too. Make sure there is plenty of toilet paper so your guests don't have an embarrassing moment of trying to find some!
Oh, and don't forget to change hand towels to pretty, clean ones.
Fold Blankets and Fluff Pillows
If you're having company stop by, you gotta have a place for them to sit, right? Clear off any clutter from the sofa and fluff the pillows.
Fold blankets and store in the closet or a blanket holder.
We're HUGE blanket lovers in this house. We'd pretty much have to be, living in Alaska!
I picked up a cute basket from Marshall's and we store our blankets there so they are easily snuggleable when visitors get a bit chilly.
You can pick up similar baskets here on Amazon.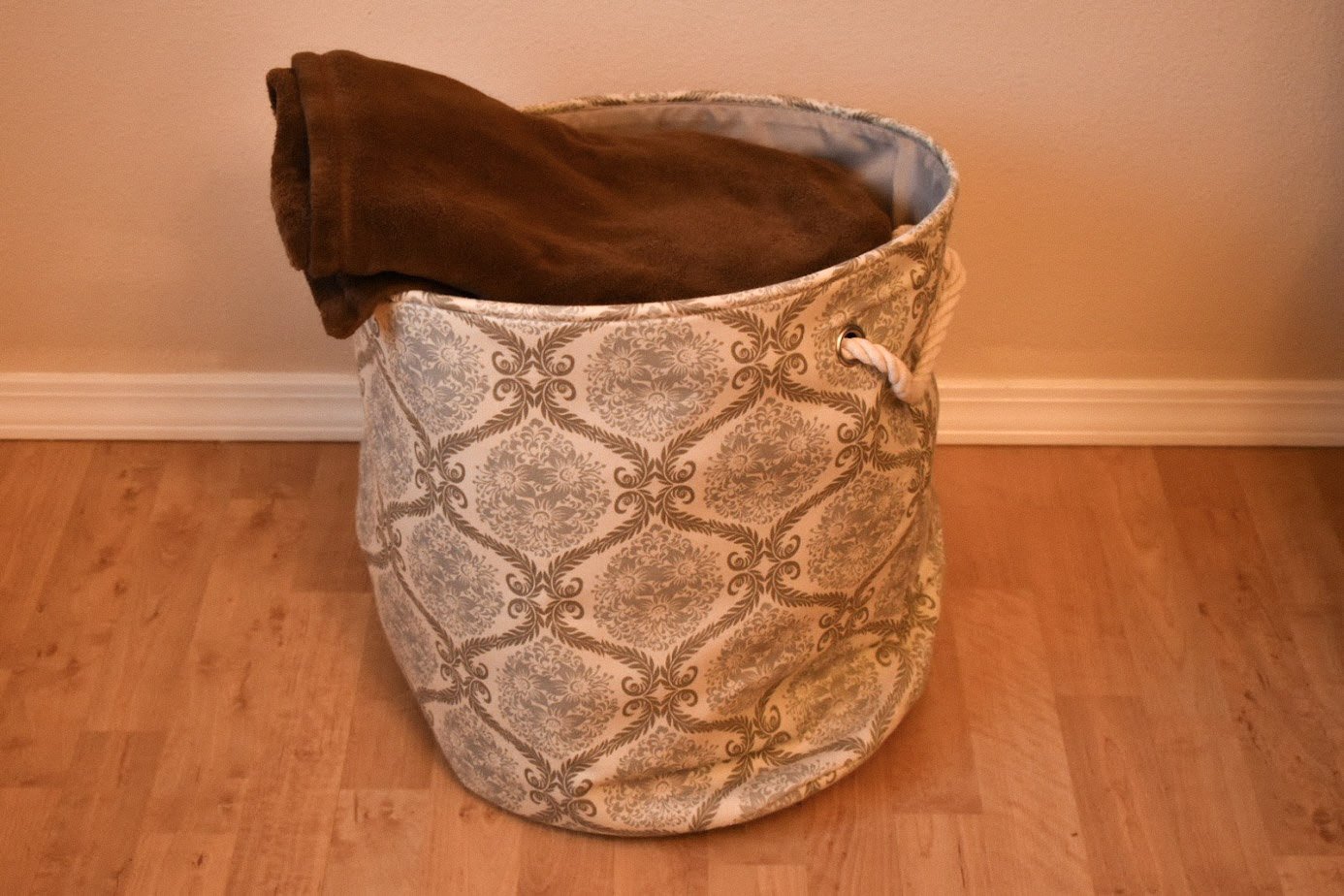 Run an Essential Oil Diffuser
Fresh, clean homes that smell lovely are so inviting. An essential oil diffuser is a wonderful way of making the house smell fantastic without relying on air sprays that smell like scented chemicals.
I adore this diffuser I picked up on Amazon.
The wood grain pattern fits in all decor, and it's super affordable. Use soothing scents like lavender, bright, energizing citrus scents, or warm, cozy fall scents to make your home smell amazing.
Turn on Some Chill Tunes
Use Amazon Alexa to pump out some chill tunes to relax and set a calming vibe.
Nothing too overpowering to disrupt the flow of conversation, but quiet, relaxing music will calm you down from the marathon cleaning sesh you just pulled off!
Now Pull Yourself Together!
Now the house is clean, but no one wants to face company looking like a hot mess express!
You spent plenty of time pulling the house together rapidly, so now get ready for a little me-time.
Hop in the shower or just freshen up, depending on when you expect guests to arrive. Pull out your favorite outfit and get ready for a fun evening!
Read Next: Holiday Hacks To Save Major Time & Cut Stress
Do you have a strategy for dealing with last-minute visitors? Share below and pin this for later!