Super Helpful Hacks To Maximize Space In a Small Bathroom
There are some affiliate links below, but they are all products I highly recommend. For more info, view my disclosure here.
The bathroom is often the most used spot in the house. But a tiny bathroom makes it a bit more difficult to have everything you need while still being clean and organized.
My very first home was an adorably cute 1980s rancher-type house. It was almost perfect…except for the ridiculously tiny bathroom.
Apparently, people in the 80's didn't really value having plenty of bathroom storage space like we do now. I was a 21 year old just learning how to set up a home, and man that bathroom made it difficult!
I learned a ton of tricks to maximize space, luckily. And now I get to share my tips with you, along with other great ideas to save space in your bathroom, no matter how tiny!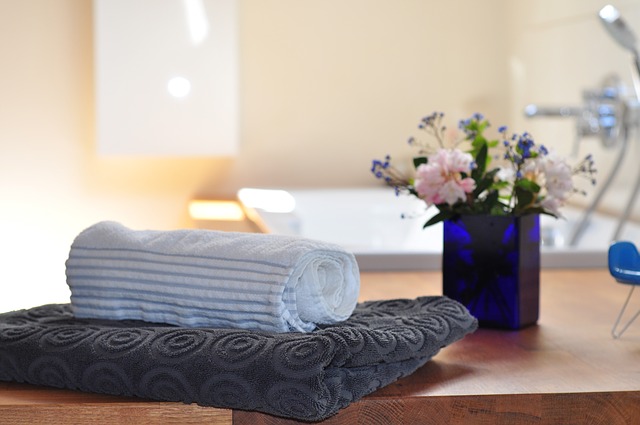 Read on for helpful tips and hacks to maximize space in a small bathroom!
While the bathroom may be small, it does not mean that you have to sacrifice your comfort. There are many ways in which you can make your bathroom look and feel larger than it really is. Here are some tips on how to make the most of your tiny bathroom space:
1) Use a mirror. Mirrors can help create an illusion of more space in a small room, and they also provide an opportunity for self-reflection.
2) Install a low-hanging light fixture or lamp with a dimmer switch – this will make the room seem brighter and larger.
3) Hang towels on a towel bar or rack instead of throwing them over the shower curtain rod or door handle; this will give you more space to move around while still keeping them within reach.
Storage Space is Everything!
Finding a useful yet attractive storage option is the easiest way to improve your bathroom. Think of unexpected areas like up above the toilet or surrounding a pedestal sink.
Use Open Wall Space For Vertical Storage
Open areas up above with cute shelving. Add pretty containers for small item storage. Or simply use it to store extra toilet paper and free up space under cabinets.
Have Extra Toilet Paper Available
Back when we lived in Puerto Rico for a few years, my cousin Brie would come spend the summers with us. We'd have steady amounts of girl time, and I definitely loved having an extra helping hand around the house!
We'd often have a marathon cleaning sesh so we could have plenty of time to go chill at the beach. Man…I miss those beach days!
During one cleaning day, we divided up the house and Brie was cleaning upstairs while I handled the downstairs area. We had the music going full blast and were making great progress…until I realized Brie had disappeared!
Well, it turns out I'd forgotten to put an extra roll of toilet paper in the room. And with the music going, I couldn't even hear her desperate yells for help!
It was definitely a memorable experience and I learned to always always always have lots of extra rolls of toilet paper available in the bathroom!
How cute would this be in a kid's bathroom?
Create A Cute Makeup Holder
I first saw this pin a few years ago and thought it was super cute! It's an adorable way to have your fave makeup products handily available.
Turns out, it's also quite easy to make and was a great Christmas gift a few years back. Get the full directions right here!
Upgrade Counters to a Single Sink
I have an intense dislike of double sinks. While they seem like a cute coupley sorta thing at first, how many people actually need to brush their teeth at the exact same time?
Plus, those sinks lead to double the sink-cleaning time.
Even worse, you have considerably less counter space than you would with just one sink.
If you're planning a remodel of your tiny bathroom, make the double sink the first thing to go!
To maximize the limited counter space, add a vertical stand with mason jars to hold small items.
Add an Extra Shower Rod Inside
Okay so this one was totally mind-blowing to me. Simply because I'd never thought of using a rod on the inside of the shower! But it makes total sense to hang extra storage baskets on it. Recreate the look with these baskets on Amazon.
Store Towels in Unexpected Ways
Instead of taking up wall space with a towel rack, why not consider storing them in a unique way?
A wine bottle rack makes a surprisingly cute holder for rolled up towels. Or you could consider utilizing the empty space on the back of the door for double towel racks.
Read Next: Quick & Easy Ways to Get Your Home Ready for Guests
Creatively Organize Cabinet Space